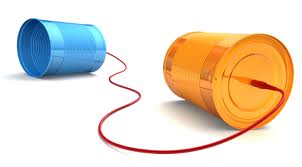 Now is as good a time as ever to take the time and do a personal inventory on your accomplishments, desires and achievements that you would like to take place in your business. It's good to reflect on your successes and items that were not as successful as they could be and take some action.  Build your momentum feel the positive energy that is inside and around you. Take responsibility, own up to your goals that you have created and follow through on your plan. Stop thinking about the hardships around you, how the economy might be doing or the high unemployment rate. Be active, be inspired and take action now in finding new prospects for your business while keeping keeping your existing clients happy. This can be done through effective communication. Being clear on both your needs and the needs of those you deal with can only help you to provde better service within your business. This type of clarity can only be achieved through effective communication.
Top 10 Effective  Communication Practices:
Find out, know what are the requirements of your customer.
Communicate with your customer. Send a survey and ask them where your business can help them.  How can you better serve their needs better?
Focus on what your customer wants by telling you in the survey you can serve them and accommodate their needs.
Dial the phone.  Contact your existing clients, keep build the relationship and get to know them on a personal level. Show them you genuinely care about them.  Your clients and potential clients in the future will do business with people they know like and trust.
E mail is a good tool to have and to use but don't over do it.  Communicate with the client by picking up the telephone, find out the best way they would like to communicate with you. Be personal, the personal touch is a key to success and will make you stand out from somebody else
Be appreciative and thankful.  Follow up with them. Send a card for their birthday of anniversary.  (You can do this easily over the internet.  Send a free card on me and put a smile on someone's face. If you would really like to surprise them go the extra mile and send them brownies, cookies or another type of sweet or even a gift card to Starbucks.
Take time off to be with family and yourself. Choose someone who you trust to help you. They will appreciate, and feel good to support you, and do their best while you are away. Get the rejuvenation your mind body and spirit deserves after months of work.
Strengthedn your realationships with your client and you can have a stready stream of referrals which is your ideal prospect.
Your customer is the best lead for your business. Be confident, don't fear rejection and be willing to ask.
Study your own financial statements. It's great to rely on a bookkeeper or an accountant but it would be good for you to take the time to understand how your finances work.  Learn more about your expenses. Know if you have a high cancellation rate. Head off a problem before it will cost you your business.  Make a decision this is the year to understand more of your financial statements and learn more where your business stands for the future. (Check out this free course to refresh your knowledge)
It's up to you to take responsibility to do what is necessary to be successful. Be kind to your self as well and take the time to celebrate your success. You are making a difference in client's lives. Offer a product of value, go the extra mile build your relationship and have people know like and trust you. Existing and new clients will desire what you have to offer if you present it well, give value and open up your heart. Pay attention to your business like food, be mindful, you have choices and make good decisions and have a prosperous productive week.
To discover how to achieve your financial dreams click here
Visit www.BGJourneyToWealth.com for more insights to growing your wealth!
Bonnie Gortler (@optiongirl) is a successful stock market guru who is passionate about teaching others about social media, weight loss and wealth. Over her 30-year corporate career, she has been instrumental in managing multi-million dollar client portfolios within a top rated investment firm. Bonnie is a uniquely multi-talented woman who believes that honesty, loyalty and perseverance are the keys to success. You will constantly find her displaying these beliefs due to her winning spirit and 'You Can Do It' attitude. Bonnie is a huge sports fan that has successfully lost over 70 pounds by applying the many lessons learned through her ongoing commitment toward personal growth and development while continually encouraging others to reach their goals & dreams. It is within her latest book project, "Journey to Wealth", where Bonnie has made it her mission to help everyone learn the steps needed to gain sustainable wealth and personal prosperity. Order your copy of "Journey to Wealth" today!
Like this post? Feel free to use it in your blog or ezine as long as you use the above signature in its entirety