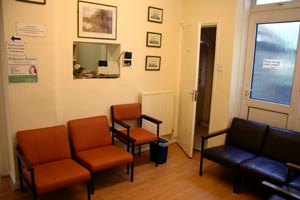 As I waited patiently (no pun intended) on a visit to the dentist, a young man came rushing in. He apologized profusely for his tardiness. The receptionist responded sternly, insisting that he would not be seen, "You'll have to make another appointment," she said curtly, "and next time be sure to be punctual."
This was the first time, aside from the airport, that I witnessed an actual "bump."
More recently on my way to a doctor's visit, I sat nervously in bumper-to-bumper traffic as the Northern State Parkway was cleaned. I finally arrived at the parking lot, weaved my way through rows of cars, and after several rounds found a spot in the last row. I walked to the building that seemed a mile away, waited for the elevator, and made my way to a waiting room, packed with people who had obviously arrived on time.
Breathless, I approached the desk, explaining I was sorry I was late but traffic was at a standstill almost all the way. The gatekeeper checked the appointment book; it happened to me – I was bumped!
"Sorry, you'll have to make another appointment," she said authoritatively.
"Like hell, you will never see me here again. How many times have I waited hours for the doctor? I'm only twenty minutes late!" I replied and angrily stormed out.
It's not that I'm unsympathetic. I know health-care professionals overbook; I even understand why. Still, I usually arrive in plenty of time…only to wait.  Filling out insurance forms helps pass the time. I browse through magazines that I would never look at otherwise like GQ, Golf Digest, or Parenting. I peruse a pamphlet about menopause, psoriasis, or gingivitis, depending on where I am.
I sit in the crowded waiting room. Names are called every few minutes; people are ushered into the inner sanctum. I wonder why very few ever come out. Finally, I hear my name. Forty-five minutes have passed, but I've made it!
I am now in what I like to call waiting room #2." It is about eight by eight feet; an examining table dominates the space; it has a little pull-out step that I know will someday collapse under my weight. A scale glares at me as if it knows that I have been bad. A stool and a several instruments for the doctor to probe me with are neatly lined up on a counter top.
An attendant hands me a paper gown or sheet that barely wraps around me. She weighs me, takes my blood pressure and advises that the doctor will be right in to see me.
Again, I wait—this time virtually naked and isolated with nothing to read. With every slight move the crinkly sound he paper covering the examining table reverberate in the cold quiet room. Time passes slowly, I tense. I eyeball my watch every few minutes—twenty more have passed in this chamber so far. Finally the door opens.
"Hello, how have you been?" says the doctor with a friendly smile.
Assuming I haven't caught pneumonia or some other dread disease while waiting, I simply say fine and the examination proceeds.
I have now waited a month for the appointment and an hour and a half at the office, and our time together is over in five minutes.
"OK, put your clothes on and step into my office."
There's no one in the office when I arrive. Uh oh, is this waiting room #3, I wonder. I wait long enough for the doctor to work one more patient into his day.
"Sorry for the delay," he says as he sits to peruse my chart.
"Everything looks good except for your blood pressure – it's a little high, he continues. Better come see me again in six months so we can check it again."
I'm not surprised at my elevated BP; for the last two hours my blood has been boiling over the apparent disregard for me as a person.
I appreciate the time and effort medical professionals invest to reach their positions. I acknowledge that their costs of doing business continue to rise along with the headaches of dealing with insurance companies. I understand the need to keep a body in every examining room so that the doctor doesn't waste a moment of his precious time.
But what about the patient's time, does it have no value whatsoever?
I don't expect overbooking and its attendant long waits to stop any time soon. But if a patient is unavoidably detained, please doctor, squeeze her in; give her a break, not a "bump."
---
To discover how to achieve your financial dreams click here
Visit www.BGJourneyToWealth.com for more insights to growing your wealth!
Bonnie Gortler (@optiongirl) is a successful stock market guru who is passionate about teaching others about social media, weight loss and wealth. Over her 30-year corporate career, she has been instrumental in managing multi-million dollar client portfolios within a top rated investment firm. Bonnie is a uniquely multi-talented woman who believes that honesty, loyalty and perseverance are the keys to success. You will constantly find her displaying these beliefs due to her winning spirit and 'You Can Do It' attitude. Bonnie is a huge sports fan that has successfully lost over 70 pounds by applying the many lessons learned through her ongoing commitment toward personal growth and development while continually encouraging others to reach their goals & dreams. It is within her latest book project, "Journey to Wealth", where Bonnie has made it her mission to help everyone learn the steps needed to gain sustainable wealth and personal prosperity. Order your copy of "Journey to Wealth" today!
Like this post? Feel free to use it in your blog or ezine as long as you use the above signature in its entirety