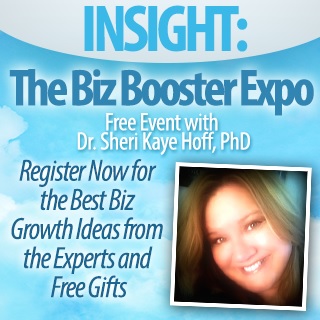 You are invited to experience insights and revelations during the Biz Booster Expo where I have partnered with my friend and colleague, Dr. Sheri Kaye Hoff, plus over 25 other biz experts to bring you the best ideas to grow your biz, grow your profits, find and help your ideal clients, keep your life balanced, and align your business with your passion and purpose.

This is a free event where you will experience the best ideas from each hand picked expert, plus receive free gifts because you deserve to have all of the help and support you need to bring the best out of yourself and your business. If you feel like you would like to see more profits and more peace in your business right now.
Register Today- Click Here @ http://bit.ly/bizboostexpo
This free event starts Aug 1. Don't wait to register. You will want to start implementing these ideas right now. These savvy biz experts have pulled back the curtain and are letting you in on their best biz secrets. What's in your wheelhouse? Your area of expertise, right now? Are you fully using your strengths and monetizing them in your biz?

Learn from our experts by clicking Here to Register @ http://bit.ly/bizboostexpo

This truly is a great opportunity to soak up knowledge that can make a tremendous impact as we close out 2013. I am so excited to share these experts with you! As always, create an excellent day ~Bonnie
P.S Please share with your friends and colleagues-just copy and paste this blurb into social media posts:
Join us for the free Insight Biz Booster Expo with 25 + experts @ http://bit.ly/bizboostexpo
To discover how to achieve your financial dreams click here
Visit www.BGJourneyToWealth.com for more insights to growing your wealth!

Bonnie Gortler (@optiongirl) is a successful stock market guru who is passionate about teaching others about social media, weight loss and wealth. Over her 30-year corporate career, she has been instrumental in managing multi-million dollar client portfolios within a top rated investment firm. Bonnie is a uniquely multi-talented woman who believes that honesty, loyalty and perseverance are the keys to success. You will constantly find her displaying these beliefs due to her winning spirit and 'You Can Do It' attitude. Bonnie is a huge sports fan that has successfully lost over 70 pounds by applying the many lessons learned through her ongoing commitment toward personal growth and development while continually encouraging others to reach their goals & dreams. It is within her latest book project, "Journey to Wealth", where Bonnie has made it her mission to help everyone learn the steps needed to gain sustainable wealth and personal prosperity. Order your copy of "Journey to Wealth" today!
Like this post? Feel free to use it in your blog or ezine as long as you use the above signature in its entirety