How would you like to release weight without dieting, taking pills, or killing yourself at the gym? My friend and colleague, Maryann Candito, founder of Synergy Weight Release, has done it and is showing you how in her new book: I'm Losing It! 7 Steps to Jump Off the Diet Rollercoaster, Release Weight, & Be In Charge Over Food.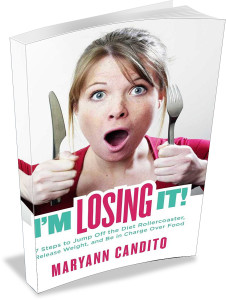 Click Here: bit.ly/1y9DokV
Maryann struggled with her weight her entire life. She went on one diet after another, losing weight, only to gain it back over and over again! So finally, at age 49, she decided never to diet again, and she made it her mission to crack the weight release code. And she did – she discovered the reasons why diets fail, and how to tap into the power of the body and mind connection to release the weight naturally, without struggle, and without having to diet.
Click Here: bit.ly/1y9DokV
If you have struggled with weight, emotional eating, binge eating, overeating, you may feel frustrated that diets have failed you. Well, you're not alone. 95% of all people who go on diets, end up gaining most or all of the weight back. That's because diets only focus on the body. You are so much more than your body, and that's why the solution needs to be a holistic one. Diets don't address why you eat, they simply tell you what to eat. But the main problem isn't so much about the what, but more about the why! This book will help you discover your why, and teach you powerful mind and body tools to actually rewire your subconscious programs, limiting beliefs, and negative eating habits and cravings. It's a real solution, one that produces a mindset shift, which will help you release the weight naturally and keep it off!
You can get this ebook free for the next few days.
Click Here: bit.ly/1y9DokV
Releasing weight doesn't have to be a struggle anymore. You have the power within you, and Maryann will guide you through the 7 steps to jump off the diet rollercoaster, release weight, and be in charge over food.
Get it free here for a limited time:
Click Here: bit.ly/1y9DokV
Wishing you health wealth and happiness,
Bonnie Gortler
The Inspired Wealth & Well-Being Coach
                  Let's Connect 
  
Subscribe  
  FB     
  Twitter    
  Linkedin   
  Pinterest