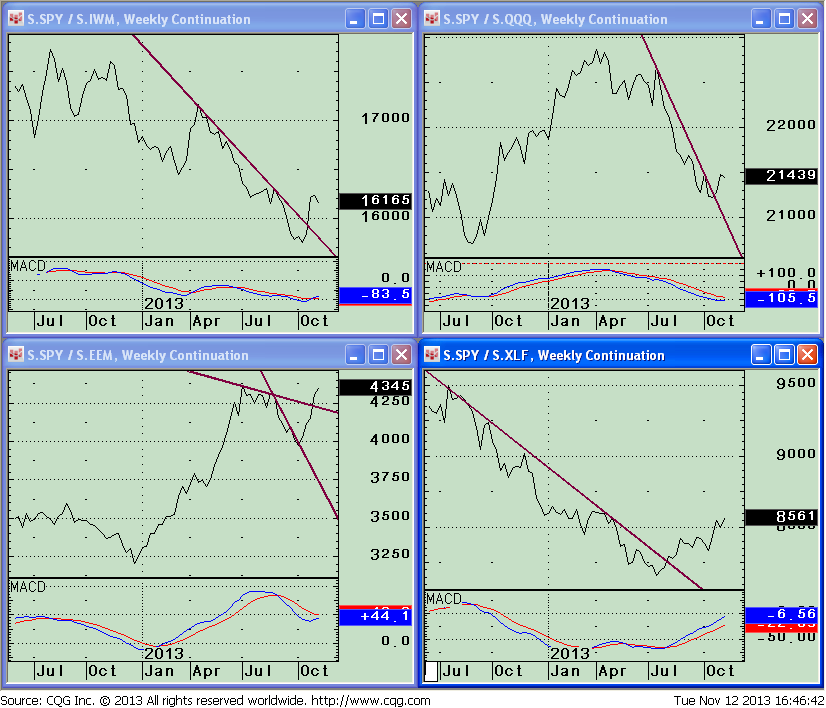 "The time of maximum pessimism is the best time to buy and the time of maximum optimism is the best time to sell."John Templeton"
The stock market continues to work its way higher, with the S&P 500 and the Dow Jones Industrial Average making all-time highs. A change in sector leadership has occurred with finance, small caps, and emerging markets losing their recent strength. Technology also appears to be losing its luster with Apple peaking at $539.25, below its 550 objective which I mentioned in the October 18 newsletter. AAPL is now at $525.73 as of this writing. Our models remain bullish with seasonality favorable, which suggests market risk will be contained even if momentum continues to weaken and a pullback begins.
What Story Do The Weekly Relative Strength of the S&P 500 SPDR ETF Trust (SPY) vs. Other Market Sectors Say Now? Weekly Sector Leadership Has Flipped.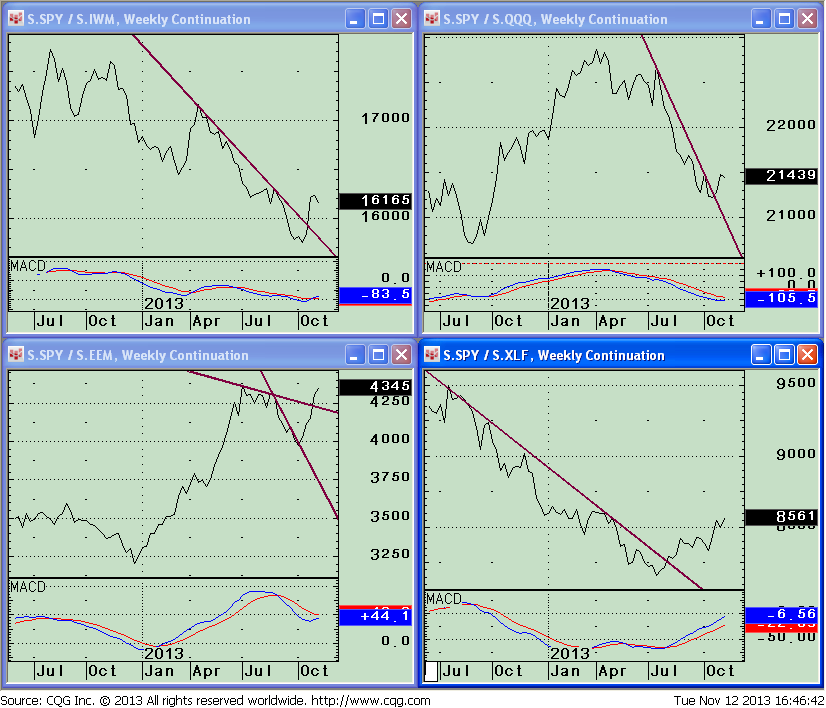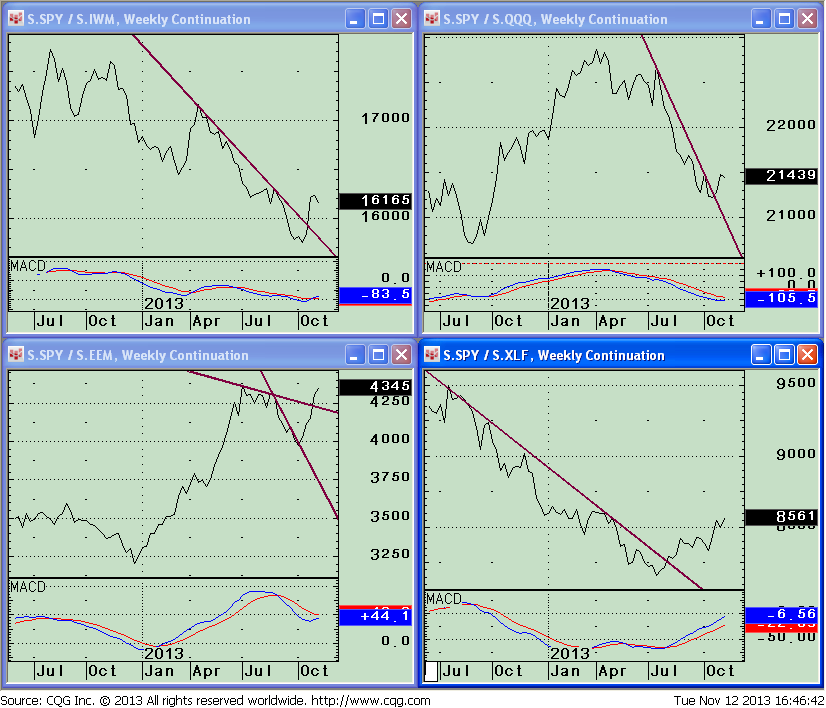 Insight from SPY/IWM ratio, top left:
The S&P 500 SPDR (SPY) has broken the down trend and now more favorable in relative strength vs. the small cap iShares Russell 2000 Index ETF (IWM). This does not bode well for the broad market to outperform.
MACD, a momentum indicator, is now rising from an oversold level, confirming the shift taking place. IWM had a high of 111.62 on October 29, failing to achieve its 114 objective mentioned in the 10/4/2013 newsletter. Time will tell if another attempt to reach the objective occurs.
Insight from SPY/EEM ratio, bottom left: The iShares MSCI Emerging Markets Index ETF (EEM) was strong from July through September which made me optimistic that the overall market would work its way higher,which it did. Now the picture is quite different. The S&P 500 SPDR (SPY) is clearly leading EEM. The ratio SPY/ EEM began turning up on October 7, breaking the downtrend from July 1 through August 19. The MACD of the SPY/EEM ratio (lower portion of this chart) has turned up and formed a rising double bottom, formations which suggest that SPY will continue to outperform.
Insight from SPY/ QQQ ratio, top right chart: The SPY/QQQ ratio has broken its downtrend. The MACD of the SPY/QQQ ratio is oversold and no longer falling; suggesting that the relative strength trend change that now favors SPY over QQQ has plenty of room to continue. Apple Computer (AAPL) represents 1/8 of the entire QQQ, so its recent stumble has helped hold back QQQ.
Insight from SPY/ XLF ratio, bottom right chart: The stock market does well when financials are leaders.
There is a clear change in the recent trend. Notice the downtrend line break and highs being made. MACD is also confirming the trend change to the S&P 500 (SPY) leading the financial sector in relative strength. When small caps, technology, finance and emerging markets are leading sectors I consider it bullish. Now that the shift has taken place, even though the market has been resilient, I am more cautious.
In Sum
Low yields in the bond market and the expectation of higher interest rates down the road spook the bond market, leaving equities the favorable place to invest in comparison. However, risk is increasing as we move toward the end of the year, with some year-end tax selling taking place as people want to offset their losses with gains. Stocks are extended, and we could see an increase in volatility or a breather in the market's advance. At this time, I am more of a holder than a new buyer but I will continue to give the benefit of the doubt to the bulls until the S&P 500 (SPY) falls below 170 where I will turn more cautious. It's a good idea to review your portfolio to make sure that you are not taking excessive risks.
Feel free to contact me with your thoughts or comments at Bgortler@Signalert.com.
Sign up now to receive FREE REPORTS about investing including
"Market Outlook 2013" at Signalert.com
This is a hypothetical result and is not meant to represent the actual performance of any particular investment.  Future results cannot be guaranteed.
Although the information is made with a sincere effort for accuracy, it is not guaranteed either in any form that the above information is a statement of fact, of opinion, or the result of following any of the recommendations made herein. Readers are encouraged to meet with their own advisors to consider the suitability of investments discussed above for their own particular situations and for determination of their own risk levels.
To discover how to achieve your financial dreams click here
Visit www.BGJourneyToWealth.com for more insights to growing your wealth!
Bonnie Gortler (@optiongirl) is a successful stock market guru who is passionate about teaching others about social media, weight loss and wealth. Over her 30-year corporate career, she has been instrumental in managing multi-million dollar client portfolios within a top rated investment firm. Bonnie is a uniquely multi-talented woman who believes that honesty, loyalty and perseverance are the keys to success. You will constantly find her displaying these beliefs due to her winning spirit and 'You Can Do It' attitude. Bonnie is a huge sports fan that has successfully lost over 70 pounds by applying the many lessons learned through her ongoing commitment toward personal growth and development while continually encouraging others to reach their goals & dreams. It is within her latest book project, "Journey to Wealth", where Bonnie has made it her mission to help everyone learn the steps needed to gain sustainable wealth and personal prosperity. Order your copy of  "Journey to Wealth" today!
Like this post? Feel free to use it in your blog or ezine as long as you use the above signature in its entirety.