Happy 2018! I hope you enjoyed the holiday season with your family and friends. My family and I had a great time traveling and it ended all too soon. The time away re-energized my spirit and had me thinking about shifting beliefs and the impact it has on one's life and overall well-being. My experience has taught me that making even a minor adjustment can result in major changes. How much of a difference do you think that shifting your beliefs and creating change would help you enjoy life more?  The answer is different for everyone. Whether it's during the holiday season, the start of a New Year, or just another normal day making your well-being a priority is one of the most important decisions in your life. Do so by starting simply by investing in YOU! This can be done all year long, not just during the holiday season, a weekend, or for a special occasion. Taking care of your well-being helps you and everyone around you to live a full and prosperous life. The road can be overwhelming at times so know that I am here to support you.  Together we can seize the moment and create real change in your life.
What about you? A new year with a new beginning signals the perfect time to take small steps toward your goals, desires, and dreams in a consistent way. Throw away the thought of resolutions and think more in terms of making better life choices. Doing more doesn't always make things better. You approach real change in a strategic manner mixed in with a dose of reality. You will be surprised how good you feel when you focus on one area at a time and with the desire of obtaining what you want. Take charge of your actions, instead of making a bunch of excuses.
You want to make practical decisions based on facts, not opinions or the old played out beliefs that you might have.  Avoid getting caught up in your emotions and reacting to everything and everyone around you. You are the master of your ship. You can learn to respond to others without overreacting. It takes some practice to raise your awareness and keep your composure when things are not going your way. Try pausing and to count to 10 before you respond. Those 10 seconds can seem like forever but believe me, you will be grateful that you waited.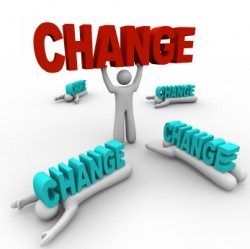 What is the one action you can take that will create the biggest impact in your life? Well, I'm glad you asked. Instead of living your life in a super busy, anxious, and stressed out state, decide today to (right now, yes, now) choose happiness. Deliberately and with conviction, choose to systematically change your mindset, habits, and behaviors in order to get the results you want. You have the power to create the changes in your life that will instantly improve your wealth and well-being. Don't make drastic changes all at once since that will only overwhelm you and could cause you to give up before you have even given yourself a chance to succeed. Take simple action steps each day and notice as time passes just how less irritated and/or frustrated you will become. You will also discover how much your energy will rise and how much easier your day will flow.  By choosing one action step and following through with focused attention will start the ball rolling so you can have a life that is happy and fulfilling while you enjoy inner peace like never before.
11 Simple Ways to Create Change and Improve Your Well-Being
"Believe You Can".
Take baby steps towards your goals.
Create some quiet time in your day by getting up 30 minutes earlier than normal.
Listen to your favorite music and relax your mind.
Choose something you love to do that you are passionate about.  For example: writing in a journal, prayer, meditation, or exercise. By doing what you love to do you will shift your thoughts into a more positive frame of mind. (I love my time I create for journaling, writing, and exercise, listening to music in the background).
Do less, not more.  Stop now and remove one item that you do often but are not getting the results you want.  Your day will flow better and you will get more done without feeling stressed and not miss what you were doing.
Create a morning and evening routine to begin and end your day that makes you feel good.
Open your arms to change, stretch yourself, and leap out of your comfort zone.
Be kind and compassionate. Be thoughtful of how others feel. Think about what the other person might be going through. Don't judge them. Remember there are two sides to every story, and sometimes even three.
Be patient and kind to yourself instead of being hard on you.  If you had a little too much to eat or drink, don't beat yourself up.
Give your body some love.  Create a daily habit to move your body.  Go for a walk or exercise. Start with 5 minutes each day. Expand the time when you can. Exercise not only helps you lose weight, but it can empower and relaxes you so you feel so much better, (like it has done for me).
This time of year is very exciting and can be even more impactful when you learn to set goals to inspire you. Give yourself the gift of creating change for more inner peace, and happiness. It's the gift that keeps on giving and also will expand as you touch the lives others in your life. You have the power to create change when you make the conscious decision to have an open mind and to take advantage of all the opportunities that exist around you. This is your life and you can have everything you ever dreamed of. Reach out and make the adjustments so that the best of everything can be yours.
Sending wishes of joy for you and your family.
If you like this article then you would love my new E-book.
Get your free access HERE: